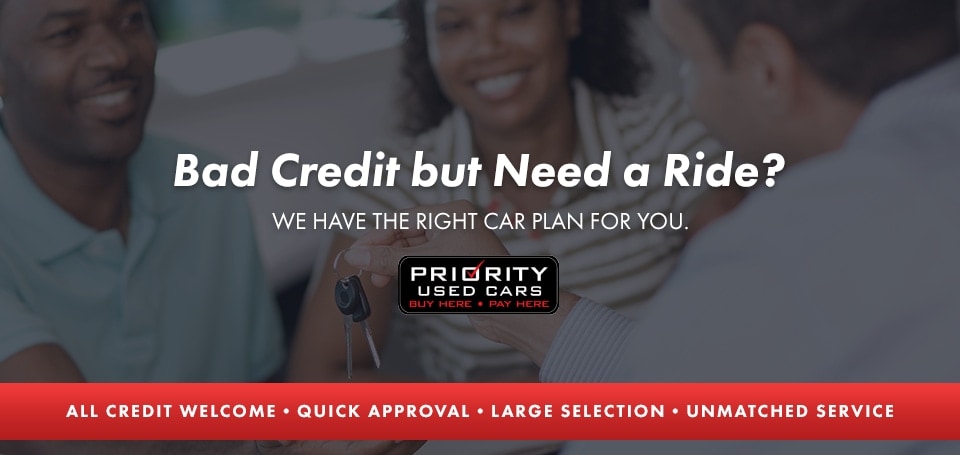 Ready and Equipped to Handle All Credit Situations
We get it. Lots of people have credit issues. That's what we're here for. Don't feel limited by your situation, come to Priority Buy Here Pay Here and we'll show you our huge selection of used cars, trucks, and SUVs. Plus, as part of the Priority Automotive family of dealerships, you'll have access to a much larger inventory – as many as 4,500 used cars and trucks. Chances are we'll find the vehicle you're looking for and get you financed. We'll treat you right. Priority is our name for a reason. We take pride in putting our customers first.
Give us a call for quick, friendly and helpful service
757-648-1940
The Perfect Solution For Buyers With Imperfect Credit
Not everyone has perfect credit. It happens to a lot of people. But at Priority, we don't think that should keep you from being able to own a reliable car or truck. That's why we created Priority Buy Here Pay Here. It's a separate dealership within the Priority family to serve buyers who have less-than-perfect credit. We welcome buyers with low credit scores, prior bankruptcy, accounts in collection, short work history and rst time buyers.
Contact Us Today →
Select Your Vehicle From Our Huge Inventory
Priority sells more new cars and trucks than anybody in Hampton Roads. So we have more trade-ins than anybody. We've set aside a large inventory of top brands and models in a wide variety of prices, including an excellent selection of cars and trucks starting at $2,995. Every day, great used vehicles are pouring into this special dealership.
Shop Now →

The Experience To Get Your Selection Financed
Priority arranges financing for thousands of cars and trucks each year. We work with all banks, credit unions and special financing services. Thanks to our excellent relationships, we can often get credit approved when no one else can. We have more than 20 years of experience in helping buyers with credit problems. And we know how to make your payments to your personal budget.
Get Pre-Approved →
A Lot Of Work Goes In Before Our Name Goes On
At Priority we take pride in every vehicle we sell, whether it's $50,000 or $5,000. Our used cars go through a thorough inspection and reconditioning process so you can be assured your vehicle doesn't just look great, it will deliver many miles of reliable transportation. All our used cars have passed Virginia state inspection. Also, you get a 30-day warranty and each comes with a FREE CarFax report.
View Vehicles →
What to Bring to Drive Away Today!
Current driver's license
Current pay stub or proof of income
Proof of residence
Any automotive insurance coverage